Taco Tater Tots Casserole
Food.com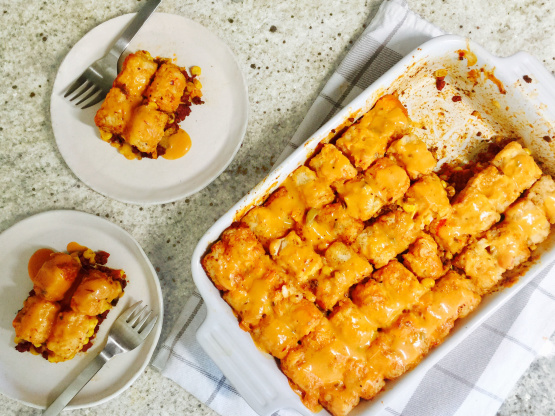 I found this on the Miserly Mom's website and have cooked many times - my family loves it - especially my 11 year old!

My roommates and I made this last night. We decided it was just ok but could definitely be great with a few changes. We thought the dish would be over the top if the tater tots were crispy. Next time we'll put the salsa con queso over the meat & corn mixture and put the tater tots on top of that, keeping our eyes peeled to make sure they won't burn. I also thought it needed something to brighten up the flavor - maybe some cilantro or Rotel with lime. Thank you for posting. Can't wait to try it again with the changes.
Preheat oven to 350 degrees.
Brown ground beef and onion together in skillet.
drain.
Add taco seasoning and water and simmer according to package directions.
In a 13x9 casserole dish spread taco meat on bottom of pan.
Layer the corn on top of it.
Then place tater tots in a single layer on top of corn.
Spread the salsa con queso on top of everything.
Cook in preheated oven for about one hour.
Good with sourcream on top.