Taco Stuffed Pasta shells
Pam-I-Am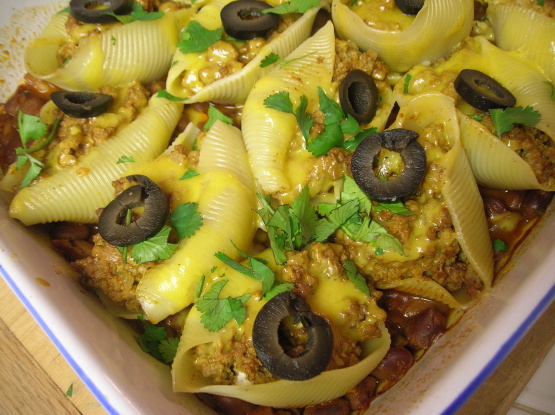 I found this recipe in a magazine a couple of years ago and it is a favorite at our house. We love cream cheese so I usually add a bit more than what the recipe calls for. The original recipe says you can double it and freeze one pan for up to 90 days. I haven't tried that but if you do, let me know how it turns out.

I recommend using cream cheese with chives and onions. It gives the stuffing alot more flavor. Great dish. everyone loved it.
COOK BEEF.
ADD TACO SEASONING AND PREPARE ACCORDING TO PKG DIRECTIONS.
ADD CREAM CHEESE.
COVER AND SIMMER UNTIL CREAM CHEESE IS MELTED.
YOU CAN CHILL THE MEAT SO YOU CAN STUFF THE SHELLS EASIER.
POUR SALSA IN THE BOTTOM OF A GREASED 9 X 13 IN PAN.
WHILE THE HAMBURGER IS COOKING, COOK THE PASTA, DRAIN, TOSS WITH BUTTER.
FILL EACH SHELL.
PLACE IN BOTTOM OF PAN AND TOP WITH TACO SAUCE.
COVER AND BAKE AT 350 FOR 30 MINUTES.
UNCOVER,SPRINKLE WITH CHEESES AND CHIPS.
BAKE 15 MINUTES LONGER OR UNTIL HEATED THROUGH.
SERVE WITH SOUR CREAM, MORE SALSA, OR WHATEVER ELSE YOU THINK GOES GOOD WITH TACOS.