lilchris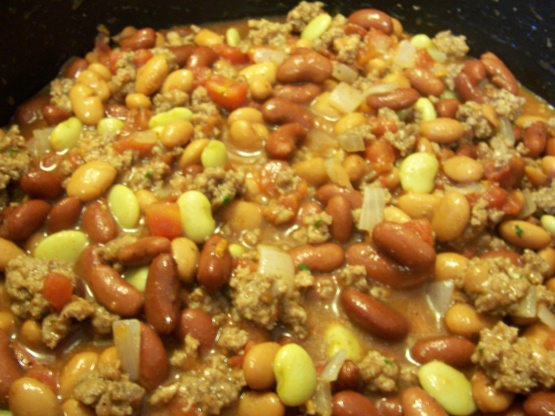 Despite the name, this is probably more similar to chili than soup. It's one of my husband's all-time favorites. This can also be simmered in the crock pot after browning the ground beef. I usually serve over tortilla chips with sour cream and shredded cheese.

Loved this! Only changes were, Fiesta Ranch dressing mix, only had a 16oz. can of navy beans which is good, but will use limas next time. Also, I didn't drain the beans and used Walmart brand Chili Ready tomatoes. Made the Red Lobster Cheddar Biscuits recipe 31206 to go with it. We loved both. Thank you so much.
Brown meat and onion in large skillet; then drain.
Combine all remaining ingredients with the ground beef in a large pot.
Simmer uncovered for 45 minutes, or until beans are tender and soup has thickened, stirring occasionally.