loof751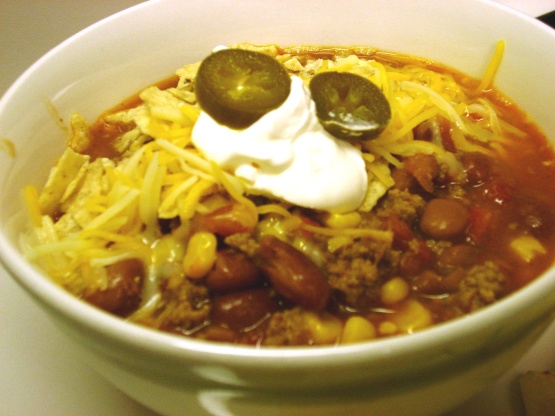 This soup seems just perfect for the whole family. A wonderful recipe to modify according to your tastes, I usually leave out the olives, and let my olive lover boyfriend add them on his own at the end. Another great Paula Deen recipe.

This was a great soup for a cold wintry day. It makes a big batch and we have enough for another meal. As one reviewer stated below, the garnishes for this soup really jazzed it up. I will definitely be making this soup again.
Brown the ground beef and onions in a large skillet; drain the excess fat, then transfer the browned beef and onions to a large slow cooker or a stockpot.
Add the beans, corn, tomatoes, green chiles, black olives, green olives, taco seasoning, and ranch dressing mix, and cook in a slow cooker on low for 6 to 8 hours or simmer over low heat for about 1 hour in a pot on the stove.
To serve, place a few corn chips in each bowl and ladle soup over them. Top with sour cream, cheese, green onions and jalapenos.