lazyme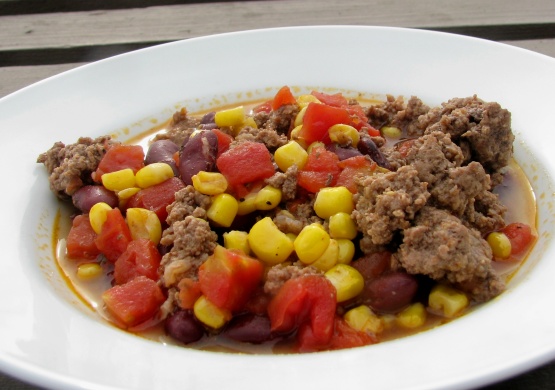 I got this recipe from a friend. So tasty! Great leftovers, too. Unsure as to the size of the cans, so I guessed. Just a "regular" can. Also, I think it's good to throw some onions in with the ground beef while I'm browning it.
453.59

g ground beef, browned and drained

35.43

g package taco seasoning

35.43

g package ranch dressing mix

4

(1757.67 g) can kidney beans, rinsed

2

(850.48 g) can corn, drained

907.18

g water (2 cans worth)

2

(595.33 g) can rotel (don't drain)
Brown the beef and drain off the fat.
Dump the beef and all other ingredients into a pot.
Cook until hot, stirring occasionally.