lazyme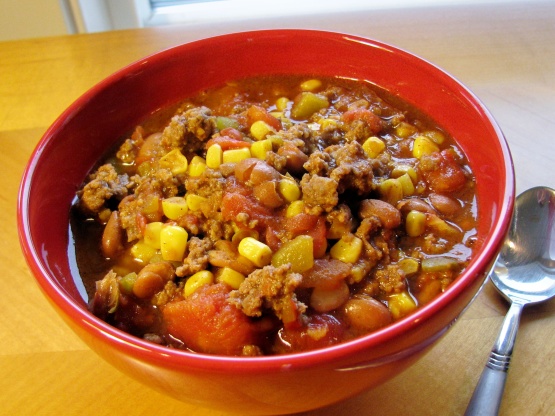 A big hit with the family. It was a little spicy, but my 8 and 10 year olds still gobbled it up. Only one minor change to the recipe - I had chili beans on hand rather than ranch style beans. Also, we garnished with french onion dip (we ran out of sour cream) as well as cheese and black olives. YUM! UPDATE 10/24/2011 - Subbed black beans for the ranch style beans this time and used the store brand of Rotel (a 15 oz can). To this I also added a 28 oz can of petite diced tomatoes. This made the soup a little less spicy for the younger kids but still enough of a "kick" for the adults. We enjoyed our soup with a large dollop of sour cream along with some green onions, cheese, black olives, and crumbled tortilla chips.
Brown meat and drain.
Add all other ingredients in a soup pot or crockpot.
Cook thru until all ingredients are warm.
Add water to desired consistancy.
If using a crockpot, the longer you cook it the thicker it will get.