Prep 20 mins
Cook 10 mins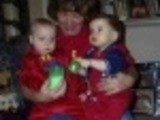 My sister served this to us this summer when I visited her. It counts 2 1/2 points per cup of soup for Weight Watchers and was very tasty!!
Directions
Cook the beef and onion, drain and rinse.
Add the other ingredients and simmer until hot, giving time for flavors to blend.
Most Helpful
Yes! This is the best Taco Soup recipe. I love adding golden hominy too! Thanks =)
My new favorite winter soup! Just spicy enough!
This soup is very easy to put together, tastes great, and is very filling. I also added 1/2 lb. of ground sausage and only two cans of ranch style beans (with jalepenos) instead of three. We thought the soup was spicy, which is great, because we like spicy foods. Thanks, Trisha W.!