Taco Seasoning (Salt Free)
CarrolJ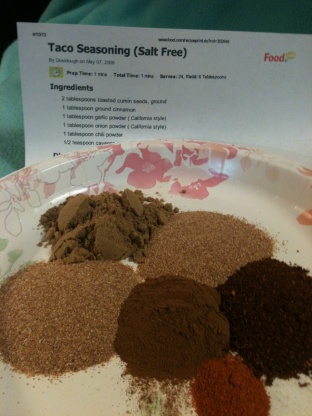 A salt free taco seasoning that is full of flavor. You may adjust the heat level by adding more or less cayenne pepper. This seasoning works very well with beef or chicken and is great when used as a rub on grilled chicken.
I tasted this mix without even putting it in a recipe and it was very good. I was out of garlic powder so since I'm not crazy about a lot of garlic powder anyway I used double the amount of onion. The onion I used was a toasted granulated onion from Pensys. It gives a bit of a more full bodied flavor to a dish so decided it would be a good substitute. When I cook my meat I will add some freshly grated garlic, which I like better anyway. Made for PAC Spring 2013.
Place all spices in a zip top bag or jar with a tight fitting lid. Shake well. Use 1-2 T. per pound of meat.