lets.eat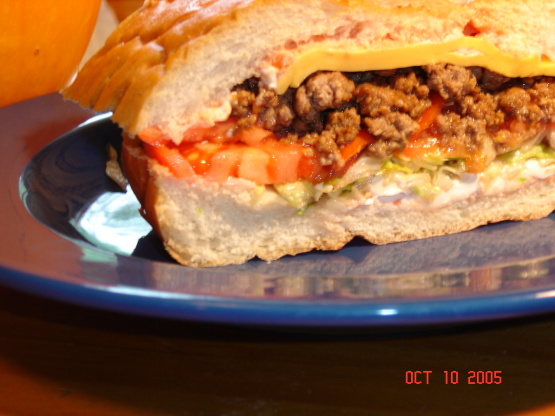 From Best of Country Cooking 2005 We enjoyed this immensely, messy to eat, so include a fork and knife.

This was a nice change from a regular taco and so much easier to eat! Makes a quick and tasty meal.
Cut bread in half lengthwise; hollow out the top and the bottom, leaving a 1/2-inch shell(discard remaining bread, or save it for another use). In a mixing bowl, beat cream cheese and salsa until well blended. Spread inside the bread shell and set aside.
In a large skillet, cook ground beef over medium heat until no longer pink; pour off grease. Stir in taco seasoning. Layer lettuce and tomato in bottom of bread shell; top with beef mixture and cheese. Replace bread top.