Nimz1466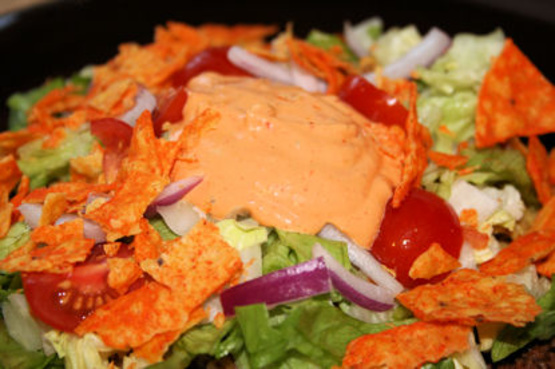 Another comfort food from my childhood. This is a different taco salad than any other on this site. It uses an envalope of good season's italian in the dressing mix. Fabulous flavor!

This is a great taco salad and very versital. The salad ingreditents were altered some for our taste, but the real flavor comes from the dressing, which is just wonderful. Not very Mexican, but has a great flavor. I tried 1/2 the meat cooked plain and the other 1/2 with a taco seasoning mix, and we really liked the meat flavored. The other was just bland. I used some sliced red onion and instead of the kidney beans, used some recipe #10614 which added a lot of flavor to the plain meat. However, this rating is based on the dressing and not on the salad. As another reviewer stated, there are all kinds of toco salad combination but the dressing is what makes the salad. Thanks KelBel.
Toss salad ingredients together.
Mix dressing ingredients together, toss with salad.
Crush doritos in bag, add just before serving.
If not eating all at once, serve doritos on top of individual salad portions.