Rita1652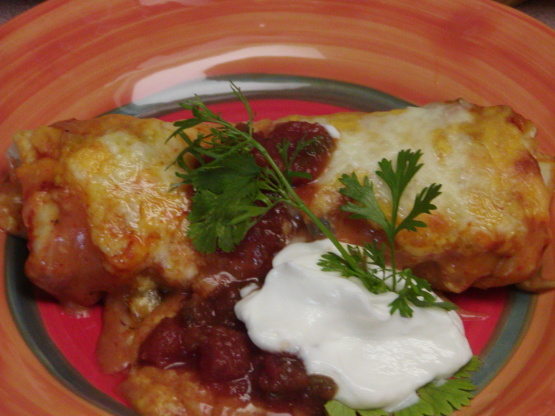 This recipe comes from Denver Fire Fighters Favorites cookbook published in 1976. This is a quick and very tasty dish and you can increase ingredients to make a larger batch, if needed. It's always been a big seller in my house.

Laudee, This was really good!!! I love mexican food better than any other! This was really good with a salad & some refried beans. Thanks for the great recipe. Darlene Summers
Brown ground beef and drain off grease.
Add refried beans.
Remove from heat.
Soften tortilla in microwave for 20-25 seconds.
Place 2 Tbspns.
of ground beef mixture and 1 tspn.
of onion on tortilla and roll like a burrito.
Place in shallow roasting pan.
Repeat filling and rolling instructions until you fill approximately 8 tortillas.
Mix mushroom soup and green chile enchilada sauce together and pour over rolled tortillas in pan.
Top with both cheeses.
Bake in 375 degree oven for 20 minutes or until cheese is melted and everything is hot.
Allow to stand about 5 minutes.
Serve with toppings, as desired.