Hey Jude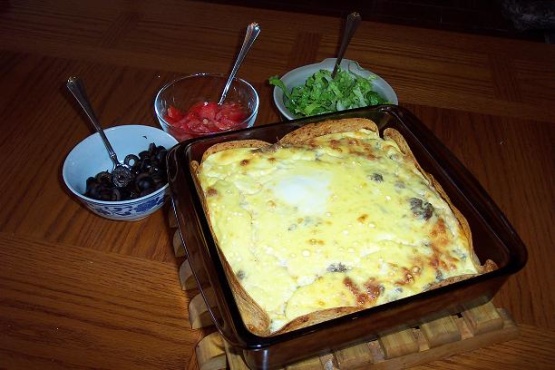 We like to liberally douse this delicious dish with our favorite hot sauce...Cholula. It's a recipe that will please both family and friends.

I was very pleasantly surprised with this quiche. Substituting sour cream for milk gives a quiche a different texture. This quiche is COMFORT food! We loved it. We served it with some avocado slices and it was like having brunch at the Hilton Los Cabos. I know because... I stayed there!
Line a greased 13x9x2 baking dish with the tortillas, tearing to fit if necessary.
Cook the meat and onion in a skillet.
Drain off excess fat.
Add garlic, chilies, and seasonings.
Spoon the mixture onto the tortillas.
Sprinkle with the cheese.
Beat eggs well and then blend in the sour cream.
Pour this mixture on top of the meat and cheese.
Bake in a preheated oven set at 350 degrees F for 45 minutes.
Let sit for 5 minutes before topping with the lettuce, tomatoes and olives.