jrusk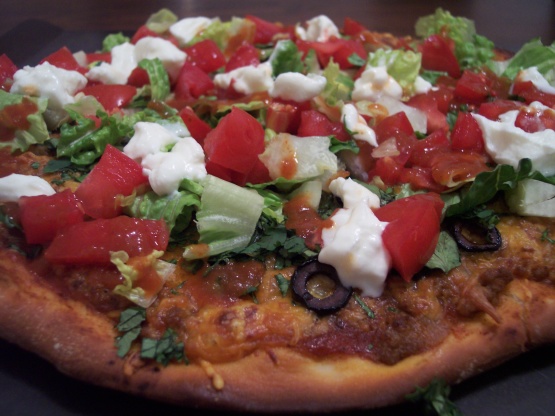 We used to go to a pizza place in Georgia that served a taco pizza. This is my version. It is different, but really a nice blend of the two. Prep time is if crust is pre-made.

I made serveral changes to this recipe but it was great! I used a canned pizza crust and then used enchilada sauce instead of pizza sauce and taco sauce. Which tasted awesome! Browned taco seasoned ground turkey with a chopped chipolte chili and added jalepeno refried beans once the meat was cooked. I added the cheese, put it back in the oven to melt the cheese and then added the lettuce, tomato, onion etc. I also used sliced jalepenos and topped it all off with green chili with pork...omg...the kids scarffed it down! Great starter recipe. A real keeper in our house.
Crust

12-14

inch pizza dough

Sauce

170.09-226.79

g pizza sauce (your choice)

170.09-226.79

g taco sauce (hot or mild your choice)

Toppings

226.79

g ground beef

29.58

ml taco seasoning

29.58

ml water
cheddar cheese, as desired

Optional Toppings

onion (sliced)
jalapeno

Additional Toppings

extra cheese
extra taco sauce
Brown ground beef, drain fat, add taco seasoning and water, mix well and set aside to cool.
Mix taco sauce and pizza sauce together.
Spread sauce on crust.
Top sauce with"taco meat", any optional ingredients desired, cheddar cheese.
Keep in mind you will add more cheese when it is done.
Bake@ 425° until crust is browned and cheese is bubbly.
Top with a light bed of shredded lettuce.
Sprinkle with cheese, arrange onion and tomato slices.
Dot with sour cream and drizzle with taco sauce.
If you desire add black olives for appearance.