rsnortiz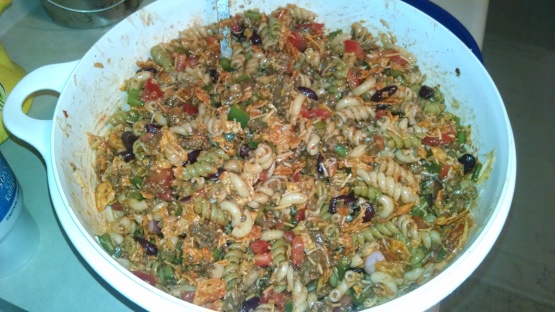 This taco salad becomes heartier fare with the addition of pasta. You can jazz this up by adding black olives, avacado, or jalepenos.

My family REALLY loved this recipe! My husband & I typically like things spicier, so I would definitely 'spice it up' more for us next time as the author suggests. It made a nice big bowlful. I also added a can of black beans and some cucumber. Very good! You definitely get that good old 'taco salad' taste. -Jen Roth
Cook noodles, drain and cool.
Mix Taco seasoning into browned ground beef.
Add noodles to meat mixture and cool in fridge overnight.
The next day, add tomatoes, green peppers and onions.
Just before serving (no more than 2 hours) combine all ingredients in large bowl and add chopped lettuce, crushed doritos and dressing.