Elmotoo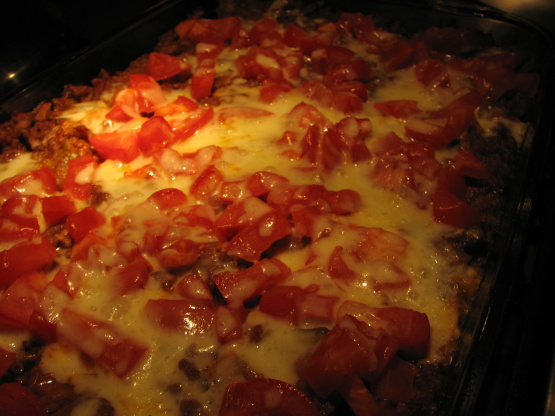 This is different than the regular taco pies. It uses spaghetti as its crust or shell. It's very good; I hope you decide to try it.

Top Review by Kaysma
while i cant really give a true review of this because i had to use what was on hand which resulted in too many alterations, i am giving this 5 huge stars simply for the theory and the awesome awesome spaghetti "crust". in case anyone is interested in my alterations, i sauteed 4 cloves of garlic with the onion and ground beef and omitted the green pepper. i used taco seasoning instead of chili powder and salt (and thinned the tomato sauce a bit with water to compensate for the thickening caused by the taco seasoning). before adding the meat mixture to the crust i spread a very thin layer of sour cream, then added the meat sauce and topped with dabs of sour cream, diced green chilies and the additional cheese (which i assumed to go on top but wasnt listed in your steps). we loved the way this really formed a pie and held its shape when cut and served. so so good, i wish i had doubled (or tripled) this. the spaghetti crust will serve as a great base for all kinds of thicker meat and/or vegetable sauce toppings - thanks!
Cook the spaghetti according to package directions and return pasta to saucepan.
Add the butter and egg.
Mix well and press into a 10 inch pie pan.
Sprinkle 1/2 cup cheese over the bottom of the crust.
Bake in a 375°F oven for 8-10 minutes.
In a large skillet, sauté the ground beef, onion and green pepper; drain off the fat.
Add the tomato sauce, undrained chili peppers, chili powder and salt; heat through.
Spoon the meat mixture into the spaghetti shell.
Bake for 15 minutes.
Sprinkle with chopped tomato.