Prep 15 mins
Cook 25 mins

Not only love recipes with only one pan to wash, but it is delicious as well!
Directions
Cook ground beef and onions together until meat is no longer pink.
Drain off all fat.
Drain tomatoes and reserve juice.
Add enough water to juice to make 2 1/2 cups.
Add to the pan.
Add tomatoes, rice and taco seasoning and stir.
Bring to a boil, cover and reduce heat to simmer until all liquid is absorbed, about 25 minutes.
Sprinkle each serving with cheese and place lettuce on top.
Reviews
Most Helpful
I made this one night while we were camping. PERFECT camping recipe!!! I made the following substitutions: ground turkey instead of ground beef, garlic & sweet onion petite cut tomatoes and Calrose (short grain) rice. I'm going to be making it at home - it's so good! The leftovers are great as a dip with corn chips.

This was good for an easy and quick weeknight dinner. Next time I would personally reduce the rice by 1/2. Thanks for posting!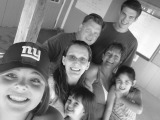 I have made this twice so far. Very easy, simple, tasty, and kid friendly too. I'm always looking for quick weeknight meals aned this is perfect.