Taco Fiesta Chicken Lasagna
Bayhill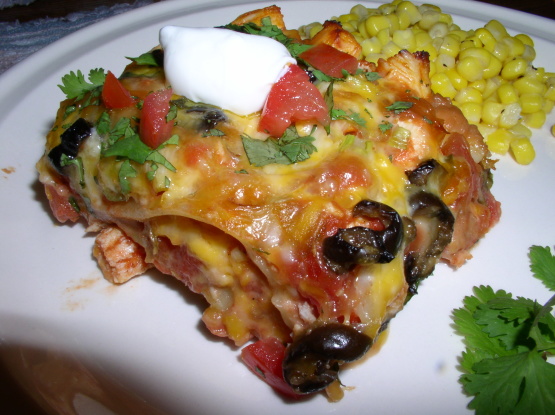 Serve this delightful dish at your next fiesta.

This meal was terrible. It had no flavor and refried beans with pasta is not a good mix. You have to drain the tomatoes, there is just too much liquid left over and we needed to keep baking it for longer. We thought this would turn out after reading the recipe & reviews but unfortunately it did not. Ate some left overs today and I could hardly stomach it. Keep Mexican recipes the way it's supposed to be in my opinion. Just my 2 cents.
Spray 15x12 inch sheet of foil and 13x9 inch glass baking dish with cooking spray.
In large bowl, mix tomatoes, salsa and chicken. In medium bowl, mix refried beans and sour cream.
Spread about 1 1/4 cups chicken mixture in bottom of baking dish. Top with 4 uncooked noodles, breaking to fit if necessary. Spread with half of bean mixture and 1 1/2 cups chicken mixture. Sprinkle with 1 cup of the cheese, and hald of the onions and olives.
Repeat noodle, bean, chicken and cheese layers once. Top with remaining 4 noodles, chicken, onions, olives and cheese. (Be sure top noodles are covered.) Cover with foil; refrigerate at least 8 hours or overnight.
Heat oven to 350*. Bake covered lasagna 50 minutes. Uncover baking dish; bake 18 to 22 minutes longer or until bubbly and thoroughly heated. Let stand 10 minutes before serving.Sprinkle with cilantro. If desired, garnish each serving with sour cream, chopped tomato and shredded lettuce.
NOTE: If you don't have the tomatoes with green chiles, use a 4.5 oz can of chopped green chiles and plain canned diced tomatoes instead.