lazyme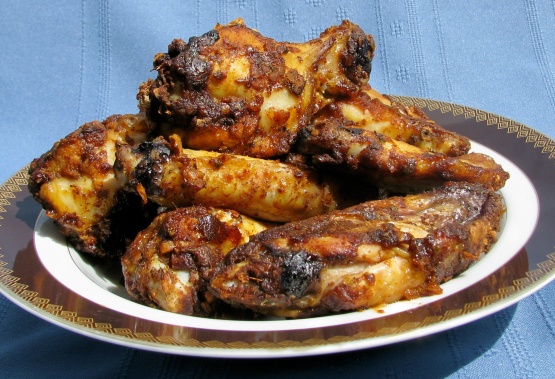 This is spiced-up version of a recipe I found on a supermarket recipe leaflet. I find the seasoning is enough for 3 lbs or maybe some more, wings.

My husband and I LOVED these. Who would have thought of doing taco wings? Not me! Glad someone did though, these were great. Very easy but delicious. The skin was nice and crispy with great flavor. These are definitely going into the keeper file. Thanks so much for posting!
Preheat the oven to 350°F.
In a plastic bag mix together the taco seasoning mix, cornstarch, cornmeal, chili, cumin and oregano.
Add several wings to the bag and shake to give it a coating, repeat with the rest of the drumettes.
Place the wings in a single layer on a greased baking sheet(s).
Bake for approx 50 minutes, turning once or twice.
Serve with your favorite dip.