VickyJ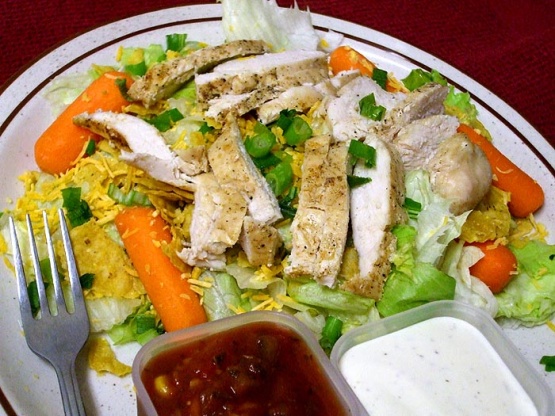 i adopted this recipe and am not sure what to do with the salsa and ranch dressing.....mix it together? if anyone tries this let me know and i will edit...

Top Review by VickyJ
Hi there Kimbearly! I made this last night for dinner. I used 2 chicken breasts (they weren't very big).... making two salads. The recipe said to fry the chicken in a skillet, but I coated them with chili powder, salt-n-pepper and baked them in the oven. I didn't kow if my SO, would like the salsa and dressing mixed together, so I served them on the side. I think by the recipe, the original poster, probably meant to mix them together. I'm not sure though. Thanks for the great dinner. It was easy! I'll make this again.
Heat oil in a large skillet on a medium-high heat.
Brown chicken and add chili powder.
Cook until chicken is brown on all sides.
Toss chicken mixture in a large bowl with the green salad.
Add dressing and cheese.
Toss well together.
Place in 6 individual plates.
Top with crushed tortilla chips before serving.