Hollie Bean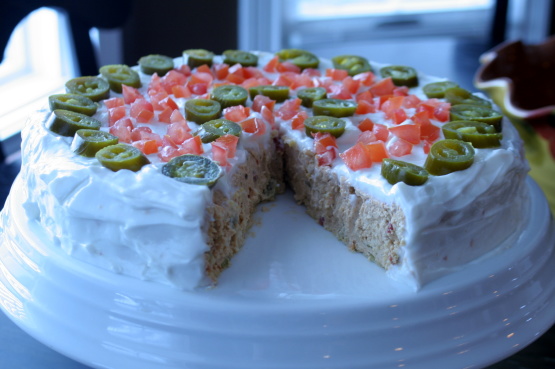 This appetizer proves that cheesecake is not just for dessert. Very good and the presentation of this is impressive. Enjoy! HELPFUL HINT: When cutting or seeding hot peppers, use rubber or plastic gloves to protect your hands and avoid touching your face. Prep time includes overnight refrigeration.

This is a great party pleaser. I did mix it up a little with another recipe I had by crushing 1 cup nacho flavored tortilla chips and 1/4 C. melted butter, mixed together pressed in springform pan and baked at 350 for 10 min. VERY good either way. Someone at work made and all were asking for this recipe.....
Sprinkle bottom of greased 9-inch springform pan with cornmeal; set aside.
In mixing bowl, beat cream cheese until smooth.
Add the taco seasoning, sour cream and salsa.
Stir in the eggs, pepper jack cheese and chilies.
Fold in olives.
Pour over cornmeal.
Place pan on a baking sheet.
Bake at 350 degrees for 30-35 minutes or until center is almost set.
Cool on a wire rack for about 10 minutes.
Carefully run a knife around edge of pan to loosen; cool for 1 hour.
NOTE: top of cheesecake may crack.
Refrigerate overnight.
Remove sides of pan.
Spread sour cream over top and sides of cheesecake.
Arrange olives, onions, tomatoes and jalapeno slices on top in a circular motion.
I do tomatoes on the outer edge, then green onion, jalapeno, then scatter black olives randomly, within the circle.
Serve with assorted crackers.