wwh26435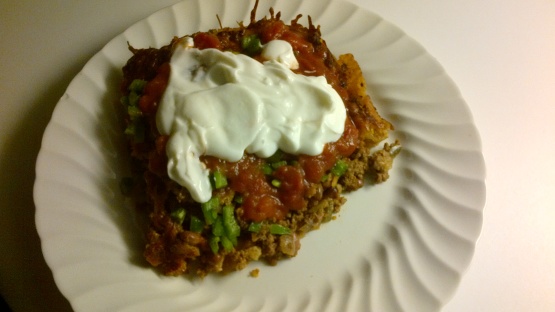 This is a real make fast dinner. It's easy and the kids like to top it with their favorite toppings. I have used the nacho cheese Doritos with this and it was great! Enjoy!

Top Review by Emily
I tried this last night - It was a little salty for our tastes. I think it has potential for a great quick meal so next time I will cut the taco seasoning in half or use salsa for flavor.
Brown ground beef onion and peppers, drain off fat, stir in taco seasoning mix and water.
Put the crushed chips on the bottom of a greased 8 inch pan; put refried beans in a bowl and stir until softened/smooth so you can spread them over the chips.
Spread beef mix over beans, top with cheese and bake uncovered at 350-375°F depending on your oven, for 20 minutes or until heated through.
Top with lettuce, tomatoes, sour cream, salsa, guacamole, whatever you like.