Charmie777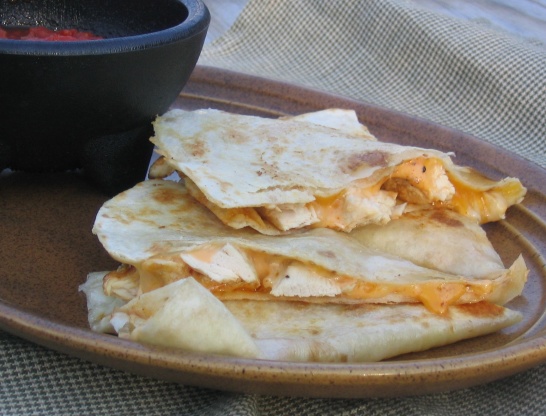 I used to love these when I was younger, I could eat two in one sitting! I haven't had fast food in a year or two, but these taste like I remember Taco Bell's quesadillas tasting. I hope you enjoy it as much as I do.

I loved these and the flavor was great. Enjoyed the jalapeno bite it had. My boys' are young and thought it was too spicy so may scale down a little for them.
Combine sauce ingredients and stir until smooth.
Grill chicken in vegetable oil and cut into thin slices.
Preheat skillet over medium heat.
One at a time, lay tortilla into hot skillet and sprinkle with 1/4 cup of each shredded cheese and 1/2 cheese slice on one side of the tortilla.
Arrange about 1/4 cup chicken slices over tortilla on the same half covered with cheese.
On the empty side, spread about one tablespoon of sauce.
Fold over, and press gently with spatula.
Cook until cheese is melted and slice each into 4 pieces.