megs_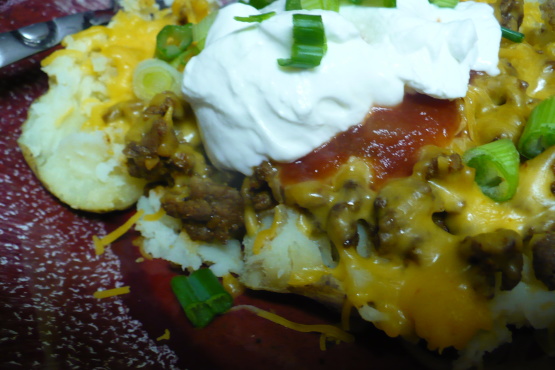 This is a great hearty topping for baked potatoes. Makes a full meal. I found this recipe several years ago in Taste of Home magazine.

We love Taco Baked Potatoes! Have been making them for years! Here is what I do: Rub a large potato with vegetable oil, mix together salt, pepper, a little ground cumin and chili powder and sprinkle on the outside of the potato before baking. Adds lots of flavor. Follow recipe exactly, I also finish it with diced avocados and crushed tortilla chips! Very pretty presentation!
In a skillet, brown beef; drain.
Add taco seasoning; prepare according to package directions.
With a sharp knife, cut an X in the top of each potato; fluff pulp with a fork.
Top with taco meat, cheese and onions.
Serve with salsa and/or sour cream, if desired.