Tabule (Arabic Salad) - Tabbouleh
Hommus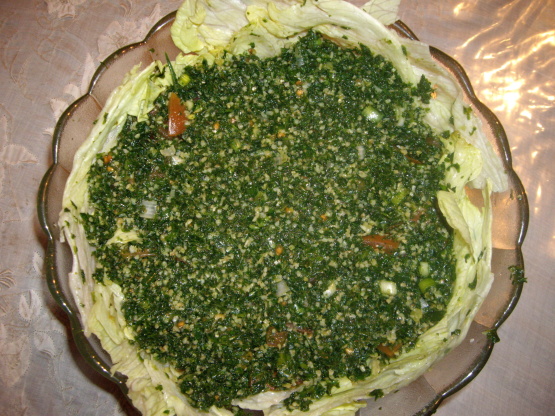 This middle Eastern recipe is easy to make, is very popular in the United States and all over the world. It is very tasty, nutritious, and can be served with any meal, or by itself. The Parsley is an excellent source of Vitamin C, and the Bulgur high in Fiber. Everyone loves tabule and almost everyone serves again.

Tabbouleh (or Tabbule) is not an Arabic Salad it is a Lebanese salad. For it is one of the signature dishes of Lebanon (I am Lebanese). It is not one of my favorite dishes, but I think regular onions do much better than green onions in Tabbouleh. I would not recommend vegetable oil for Tabbouleh either, the olive oil gives it a much richer taste. Putting the Borghol (or Bulgur) without soaking it can create a great effect of crunchiness. Another alternative to eat Tabbouleh with is cabbage instead of lettuce or even Lebanese bread. It is a great side dish with poultry and meat, extremely nutritious as you put in your description.
Soak Bulgur (cracked wheat) in water and drain.
place Bulgur in a large bowl and add juice of one lemon to Bulgur and mix.
leave bulgur sitting until water and lemon juice is absorbed (around 45 minutes).
Add all remaining ingredients to Bulgur and mix well. add more lemon juice or salt if desired.
Serve over fresh lettuce leaves.