Tabouli (Lebanese Bulghur, Parsley, and Mint Salad)
grim17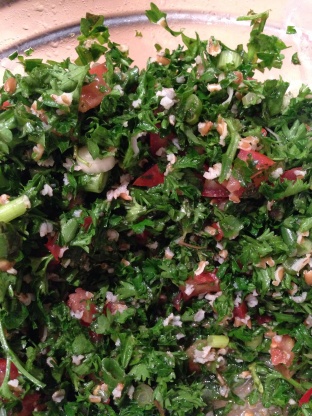 Tabouli is a Lebanese salad and is often served as part of a meza appetizer assortment, as well as on its own. This is my cousin's recipe, and according to her, you NEVER put garlic in tabouli, and there is no place in it for celery, cucumber, or any of the myriad of other ingredients with which some people like to adulterate it "to make it different". I agree with her wholeheartedly. This doesn't need anything else; just season it well with the salt, pepper, lemon, and olive oil.

Tabouli should never be prepared using a food processor; it simply deauthenticates the consistency and even the flavor. Additionally, adding cucumber is not "adulterating" the recipe, but rather reflects the traditional version of this food from other areas of the M.E. Syrians from the Levant area are known for adding cucumber. And, in case you have never tried Tabouli with cucumber, you are missing out. I will, however, agree with the author of this recipe that garlic is not traditionally used in making Tabouli and neither is using celery.
1

cup medium Bulgar wheat (#2)

2 -3

bunches parsley, stemmed and chopped, depending on size

1 -2

bunch fresh mint leaves, finely chopped, depending on size, more to taste

2

bunches green onions, chopped

4 -5

ripe firm tomatoes, partially seeded and chopped

3 -5

lemons, juice of, to taste
1⁄2 cup extra virgin olive oil, to taste
salt & fresh ground pepper
This recipe is a breeze if you have a food processor, a little more work if you don't.
If using a processor, chop parsley and mint together, using a pulsing action, to ensure that you don't end up pureeing them, and remove to a bowl.
Repeat with green onions, and add it bowl.
Chop tomatoes, preferably by hand, into about 1/4" dice, and add to bowl.
If you are making this for company, you might want to chop everything by hand.
It makes a much prettier dish than when made in the processor, but I never bother when it is for personal consumption; I just take a little care when using the processor.
Wash bulghur thoroughly, drain, and soak in fresh hot water for about 1 hour.
Drain and squeeze as dry as possible, and combine with vegetables.
Drizzle with lemon juice and olive oil.
Add salt and pepper to taste, and toss thoroughly.
You can be quite generous with the pepper.
Refrigerate for about an hour, taste, and adjust salt and pepper.
In addition to serving a a salad or part of a meza appetizer assortment, it is also good as dressing on a falafel or lamb sandwich in pita bread.