Tabouli & Chickpea Couscous Salad
JustJanS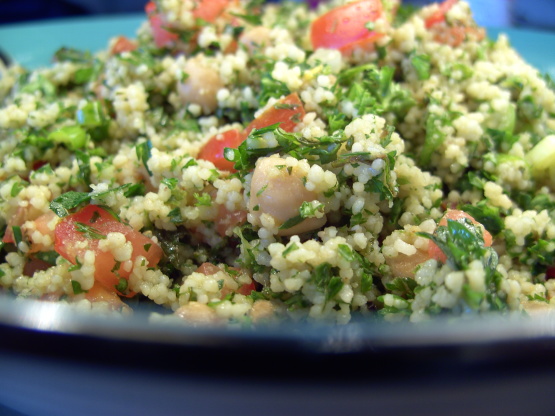 This recipe is from Sydney Markets, I love Chickpeas & couscous so this is on the menu for lunch soon. I'm not too keen on mint so I think I'll leave it out but use whatever suits you.

I love tabouli, but somehow I buy the bulgar wheat, make it once and waste the rest. We eat a lot of couscous and this tastes so similar to the real thing I can't imagine ever being bothered making it (the real thing) ever again. I made a half recipe, but used all of a 400g can of chickepeas (I love them and think you can never have too many). My uncle was Lebanese and I grew up eating tabouli, this is an excellent version thank you Mandy.
Place couscous in a large heat-proof bowl an pour over boiling water, stir to combine. Cover & set aside for 3 mins or until water is absorbed, fluff with a fork.
Heat 1 tblsp oil in a pan, add cumin and chickpeas and cook tossing constantly for 5 mins or until warmed & light golden.
Add chickpeas, parsley, mint, onions & tomatoes to couscous & toss gently to combine.
Combine remaining oil, lemon juice & salt & pepper in a jar & shake to combine well.
Pour dressing over salad, toss well & serve.