Serah B.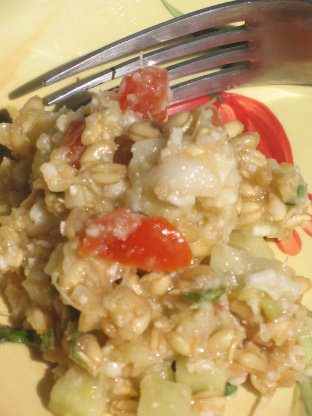 From "The World Goes Raw Cookbook" by Lisa Mann. Cooking time includes marinating time, but does not include time required to sprout wheat.

This recipe sounds good for a "Cauliflower Salad" but does not even come close to "Tabouleh" and should not be categorized as so!!! The main Ingredient for Tabouleh is BULGUR, then Fresh Mint and fresh Parsley is always added along with the tomatoes and cucumber...etc...etc My Travels have taken me to various parts of the Middle East and I have been taught by the real "PROS" on how to make it.
Whisk together lemon juice, oil and sea salt and set aside.
Pulse cauliflower in food processor until it resembles fine breadcrumbs.
Transfer cauliflower to a large bowl and add remaining ingredients (including lemon/oil mixture) and mix well.
Marinate for 20 minutes at room temperature, then serve.