Tabbouleh Wrapped in Romaine Leaves
Deantini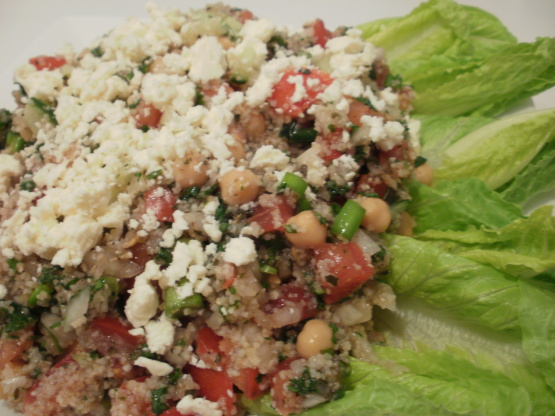 You can skip the preserved lemons(the salad will be just as good)! But be adventurous! Take time to finely cut all the vegies (confettied)! Serve as an appetizer, salad, side dish or main meal.

We absolutely LOVED this! This is my first time making my own Tabouleh salad and it was as good as any I have had in restaurants. I did not have fresh mint and used only dried, which worked great. I also did not have preserved lemons and added 3 tbsp of extra lemon juice instead. I used chickpeas and feta as well and reduced the oil by about 1/2 which did not hurt the recipe either. I will be making this again and again for sure. Made for Photo Tag.
Soak bulgur wheat in boiling water to cover by 1/2 inch for 20 to 40 minutes and then place in sieve to drain.
Shorter time the more chewy the bulgur.
Combine minced onion with allspice, pepper and salt in a large bowl.
Add parsley, scallions, tomatoes, fresh and dried spearmint and preserved lemons.
Add cucumber peas and or chickpeas.
Gently fold in the soaked or rinsed wheat.
Stir lemon juice and oil together and stir into salad.
Refrigerate to chill before serving.
Check seasoning and adjust to taste.
Garnish with Olives and feta cheese.
Surround salad with small romaine leaves.
Use them to scoop up the salad.