Tabasco Mayonnaise (Copycat)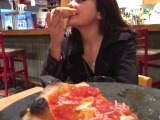 This is my favorite dip for artichokes and for grilled cheese sandwiches. You can adjust the amount of Tabasco used and even use another brand of hot sauce.
Directions
Pour the mayonaisse into a small mixing bowl.
Whisk in the Tabasco sauce.
Taste and adjust until you think it's just right.
Most Helpful
First had this in New Orleans on a shrimp po boy and immediately fell in love with the mayo. I wasn't sure of the mixture and my first attempt was a bit warm. Good, but not what I was looking for. This is excellent. Now if only I could find the fresh shrimp! :)
This is going to sound silly, but I tried this today while having lunch out in a local diner.. I ordered a reuben and fries and asked for a side of mayo.. the tabasco was on the table, so I mixed it into my mayo to taste and dipped my fries into it.. its really delicious!
This is one of those recipes you wonder why you didn't think to do it before. I love tabasco, so enjoyed this a lot on fresh crab sandwiches. This gets better as it sits in the fridge and I found myself thinking about what I'd eat it on next (a perfect, buttery avocado as it happens!)