gailanng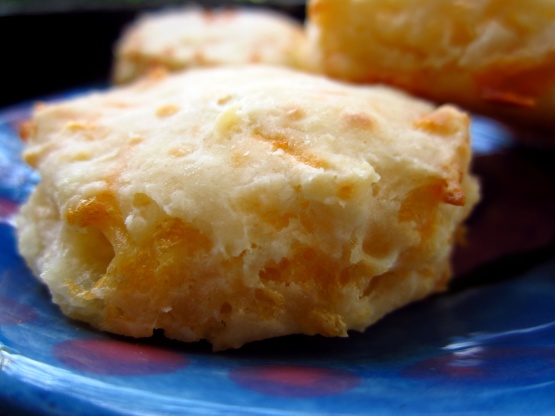 This recipe is from a local supermarket handout.

Love it when I make homemade biscuits AND they turn out! LOL The amount of Tabasco called for didn't give me very much, 3-4 drops per biscuit. Next time, I may melt a tablespoon or so of butter, adding in the Tabasco and brushing over the tops. made as directed, my yield was 9, and mine didn't rise as much because I used a glass to cut them out, instead of a biscuit cutter. Thanks for sharing a winner of a recipe, Celticevergreen!
Preheat oven to 400 degrees F, and coat baking sheet with cooking spray.
Whisk together flour, baking soda, baking powder, and salt in large bowl. Stir in butter and cheese. Stir in buttermilk, and mix until dough just comes together.
Scrape out onto well-floured work surface, and pat dough to ½-inch thickness. Cut out biscuits with 2 ½-inch diameter round cutter.
Repeat with remaining scraps of dough until you have 8 biscuits, and transfer biscuits to prepared baking sheet.
Sprinkle red pepper sauce on tops of biscuits. Bake 12 to 15 minutes, or until puffed and golden. Serve hot.