(T W A) Meatballs for Spaghetti
CindiJ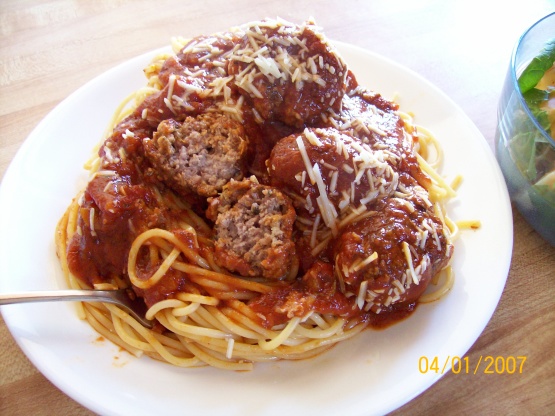 Great meatballs to go with any spaghetti sauce. Make these as large or as small as you like. My family has been making this recipe for over 45 years and my sons often request Spaghetti and Meatballs for their birthdays. I always make a double batch and freeze in portions for future quick use.

I made these to go with Recipe #128830 and stuffed shells. Delicious! I used 1 lb ground chuck and 1 lb of Italian turkey sausage. This is a recipe I will use again and again! Thanks Cindi! Made for Spring PAC 2009
Mix all ingredients together. Remember, the less you handle the more tender they will be.
Shape into 1-inch size balls.
Bake on a broiler pan for approximately 20 minutes in 375 degree Fahrenheit oven, turning often until done. Meatballs can also be fried in a skillet.
Add to recipe #128830 TWA spaghetti sauce and simmer over low heat approximately 2 hours. Stir often to prevent scorching.