T-O-H Berry Best Smoothie
From TOH Cookbook...Quick, easy and filling for breakfast or anytime. My kids like this in the summer especially after a day of swimming in the pool.
Directions
In a blender, combine all ingredients and cover and process for 30-45 seconds until smooth.
Serve immediately.
Most Helpful
This was delicious! The only thing that I did different was to use frozen blueberries and raspberries, and not add the ice cubes. It still had a great, thick, chilled texture. The half-and-half was a great addition. I will be enjoying this often. Made for Think Pink 2009 Tag Game.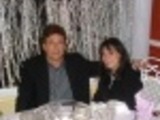 I had this for breakfast this morning and it was wonderful. I only used blueberries and raspberries because that's all I had, but it was still delicious! Thanks for another great smoothie for me to enjoy!
This is a smooth smoothie that is as beautiful to see as it is to slurp. I used fresh banana, fresh strawberries, and frozen blueberries. I missed out on the raspberries, but the taste was so dog/gone terrific, I could of had two. (I didn't though) I also used a combination of banana-orange juice. So pretty dotted with blueberries on the pink. Delightful and will use the often! Thanks so much, HokiesLady! Made for your *football win*, week two Fall 2008.