T.l.b.s. (Tastes Like Banana Split)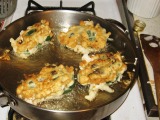 This is a slightly tweaked version of a great old traditional dessert, originally developed by Mr. Food (Art Ginsberg). I really love Mr. Food recipes for their simplicity and they always turn out nicely. This one is simple to make, delicious, fast, and fairly cheap. It's usually my covered dish when desserts are requested for school events or reunions and I always bring home an empty pan because the dish has a LOT of eye appeal as well. It needs to refrigerate for an hour or so prior to serving and that time is reflected in the "cooking time," albeit there is no cooking to it. Everybody bugs me for this great old traditional recipe -- and now YOU have it too!*.*
Directions
In a medium bowl, mix the graham cracker crumbs and the melted butter. Pat this mixture into a 9" x 13" casserole dish and refrigerate for a few minutes.
In a large mixing bowl, prepare the pudding according to package directions.
Spread the pudding in the graham cracker crust and cover with the banana slices. Then, layer in the pineapple and whipped topping. Garnish with the nuts and the cherries and cover lightly with cling wrap and keep refrigerated until serving time.
NOTE: This dish is best if it is refrigerated overnight prior to serving. If you do this, garnish just before serving. Also, be sure to use INSTANT pudding (cold) and, if two blends are listed on the box, choose the thicker one that uses less milk.