T.G.I.F's Broccoli Cheese Soup
ChefDLH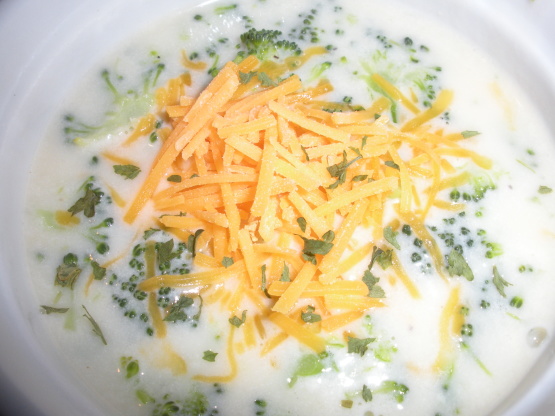 A good copycat recipe I use in place of Campbell's broccoli and cheddar for my soup freak! Serve with Salad, hot bread or crackers.

Currently eating this for lunch. Very easy and very good. I added chicken chunks and real diced onions. Next time i think i'll add more broccoli though to get those 5 a day in. I've never had TGIF's soup but this is very good.
Combine Chicken broth, water, half and half, cheese, flour, onion and pepper in a large soup pot.
Bring to a boil, stirring constantly, then reduce to a simmer.
Add broccoli and simmer for 15 minutes more or until broccoli is tender but not mushy.
Pour into a large soup bowl and offer cheese and parsley at the table.