Szechwan Shrimp (Chili Shrimp)
Rita1652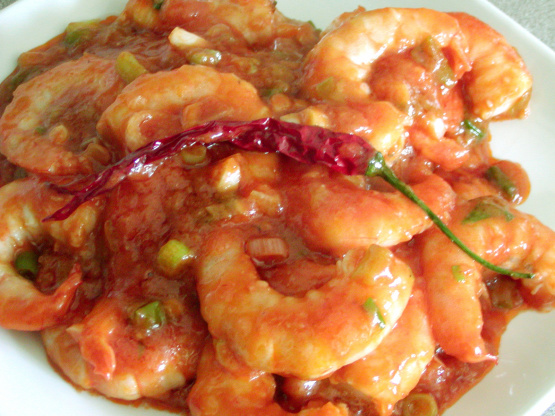 I found this on a website and tweaked it, after having this in several restaraunts while living overseas. I cannot find it anyplace stateside so this is the best interpretation of Chili shrimp I could find.

This is very good. I basiclly took the recipe and made Shrimp tacos. Much like fish tacos but with the Chili shrimp. I omit the cornstarch and saute the shrimp with the other ingredients then make a hot slaw of cabbage, sugar, carrots, and rice vinegar for topping the wheat soft tacos. DELISH. Another vesion would be to substitute chipoltle sauce with olive oil for the sesame oil. Great recipe Jessica K
In wok or skillet over medium-high heat, heat oil until hot. Saute Shrimp, garlic, ginger, scallions and chile. Cook a few minutes.
Add sherry, ketchup, chili sauce, and cornstarch mixture and continue to cook, stirring constantly, until shrimp are done. Serve with rice.
Sometimes I dust the shrimp with flour before putting them in the oil, to make it like Chen's on iron chef! Enjoy!