Prep 20 mins
Cook 20 mins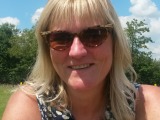 I first cooked this Charmaine Solomon recipe a few years ago and thought it wa sgreat. I then went on holiday to Singapore and had this dish in a restaurant there and was amazed at how close this recipe is to the restaurant version. Lots of ingredients (as with most good Asian food) but don't be put off, it really is worth the effort.
Directions
Mix chicken together with the cornflour(4 tbsp), salt and five spice powder (1/2 tsp), toss then dust offexcess cornflour.
Mix stock, sugar, soy, sesame oil, vinegar, wine, five spice and pepper together.
In a small bowl mix cornflour (2 tsp) and cold water.
Heat oil in a wok and when very hot add chicken pieces, a third at a time and fry on a high heat, tossing the chicken to brown all over.
As each batch is fried drain on absorbent paper and let oil return to a high heat before adding next batch.
When chicken has been fried pour off all but 2 tbsp of the oil.
Add chillies, garlic and ginger and fry until garlic and ginger are golden and chillies are dark.
Add spring onions and toss for a few seconds, then add stock and bring to the boil.
Stir the cornflour and water mixture again to mix smoothly and add to the pan, stirring constantly until it boils and thickens.
Add chicken and toss to heat through.
Serve immediately with white rice.
Reviews
Most Helpful
ZWT6: Delicious and full of flavor!! Can't wait to make again!

This is indeed worth the effort and tastes like many a chicken dish I have eated when I lived in Hong Kong, so quite authentic! I cut this back to serve two and served it with egg noddles instead of rice, real street food memories from Hong Kong and Singapore. My glaze was quite loose and did not coat all the chicken, but I served the excess sauce from the pan on to the plated chicken. Made for ZWT#6 and the Asia leg for the Cheese and Whine Team. Merci, FT:-)

This was fantastic. It doesn't say where to put the sugar in, so I put in in with step 2. And the water and cornstarch did not make a paste, ( like I'm thinking it is supposed to), so I just added more water. But overall, it was great and seemed to have an "authentic" oriental taste.