Szechwan Chicken Salad With Dressing
Elmotoo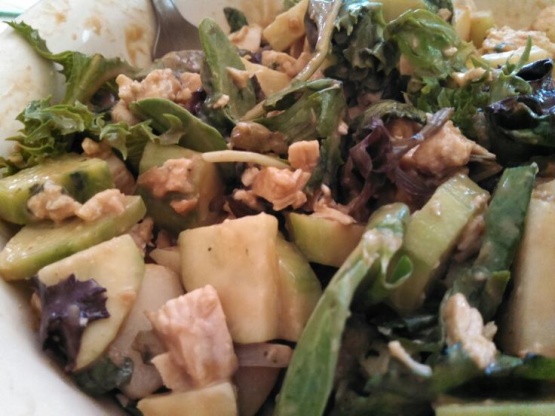 Daughter gives us a Harry and David fruit of the month gift for Christmas. This month was "pearsnapples" and the insert had this wonderful salad. It is out of this world.

I liked this salad quite a lot. I enjoyed the combination of spinach, crisp cold pears & apples, and the cilantro. The dressing is delicious and pairs well with the ingredients. I did have a problem with the thickness of the dressing and repeatedly added additional water. I do agree with other reviewers that sunflower seeds or chow mein noodles would be a nice added ingredient to add crunch. Thank you for sharing the recipe!
Place all ingredients for dressing into a small saucepan.
Warm on low heat until creamy and well blended, whisking constantly.
Add a 1 or 2 tablespoons of water to dressing until desired consistency.
Mix about 2 cups of cold water and 1 Tbsp of lemon juice.
Core apple and pear, cut into thin slices and drop into cold water.
Wash and tear greens into bite size pieces.
Combine chicken, cucumber and coriander.
When ready to serve, drain and lightly dry the fruit.
On chilled salad plates divide the greens into 2 portions, place chicken mixture in mound on top.
Arrange the fruit slices on top and serve with the dressing.