Szechuan Turkey and Broccoli Casserole
awalde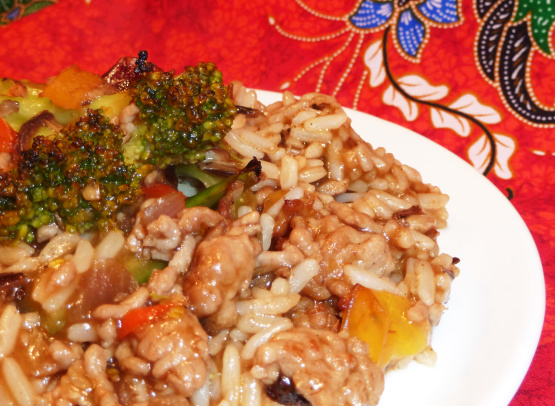 A festive, warming dish to bring to your Holiday office pot luck party. Spicy and sweet turkey and broccoli stir fried with peppers, onions, ginger and garlic. Full flavored adding as much chili flakes to satisfy your heat tolerance. Served over brown rice in a casserole or plate over rice. This recipe calls for Hot chili oil which has soybean oil, red chili peppers, sesame oil, garlic oil and ginger oil or you can make you own.

Top Review by awalde
Hi Rita,
all my family liked this recipe very much. My son came home after one week school camp and this was his first meal at home. He VERY happy to eat tasty food again.
I only reduced the the cornstarch to 1 1/2 tablespoons because I like it more liquid!
Really tasty and easy for everybody! Thanks a lot for the recipe.
Cook brown rice according to package directions.
Preheat oven to 350 degrees.
Spray a 10x13 in casserole pan and set aside.
In a large hot fry pan or wok add oil. Stir fry peppers, onions, garlic and ginger 3 minutes. Add ground turkey mixing in thoroughly add broccoli stir in and cover cooking over medium high heat for 5 minutes.
Meanwhile in a bowl mix brown sugar and cornstarch stir in beef broth add soy sauce, hoisin sauce, and black pepper. Stir into turkey mixture, cover and simmer for 5 minutes.
Place cooked rice in the casserole pan.
Taste the turkey mixture and adjust the heat to your tolerance. Pour over the rice cover with foil and warm in oven for 15-20 minutes.