Szechuan-Style Smoked Salmon
Gatorbek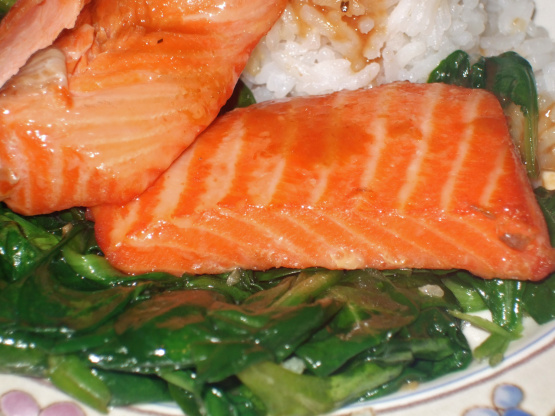 This is adapted from a Martin Yan recipe. I'm absolutely in love with it. I have made tea smoked chicken in the past and also loved that. If you enjoy the unique and delicious you must try this.

This was very yummy, and much easier to prepare than I thought. Using the foil made clean-up a breeze, and I used a steamer basket instead of a cake rack since I did this in my dutch oven. Couple of minor subs: regular soy sauce, real sugar, and fresh ginger in the marinade. For the smoking spices, I only had anise seed, so I used 1 tsp, as well as ground cinnamon, again 1 tsp. The only thing I will do differently next time (and there will be a next time!) is to allow the spices to begin to smoke BEFORE adding the salmon. By having it in the pot already, it came out a little too done for our tastes, because we like our salmon medium, with some pink in the middle, but this is personal preference. Served this with Recipe #287499 and jasmine rice, with the reduced marinade drizzled over it - paired very well. Thanks!
Combine marinade ingredients (soy, rice wine, ginger, sugar) in a wide bowl.
Add salmon and turn to coat in marinade.
Cover and refrigerate for 20 minutes and up to 1 hour.
Line a stir-fry pan or deep skillet and the inside of pan lid with heavy-duty foil.
Combine smoking mixture (brown sugar, rice, tea leaves, anise, cinnamon, peppercorns) and spread evenly in the bottom of pan.
Set a round cake rack over smoking mixture (Be sure the smoking element does not touch rack).
Remove fish from marinade and place on rack.
Pour marinade into a small saucepan and set aside.
Place pan, uncovered, over high heat.
When mixture begins to smoke, cover pan; reduce heat to medium-low and smoke until salmon turns a rich deep color, about 10 minutes.
Turn off heat; let stand for 5 minutes, undisturbed, or longer before removing lid.
Bring reserved marinade to a boil; add cornstarch solution and cook, stirring, until sauce thickens.
Strain sauce into a bowl, discarding solids.
If you plan to serve the fish hot, serve with the sauce on the side.
Otherwise, serve at room temperature with no sauce.