Szechuan Style Eggplant (Aubergine)
Hadice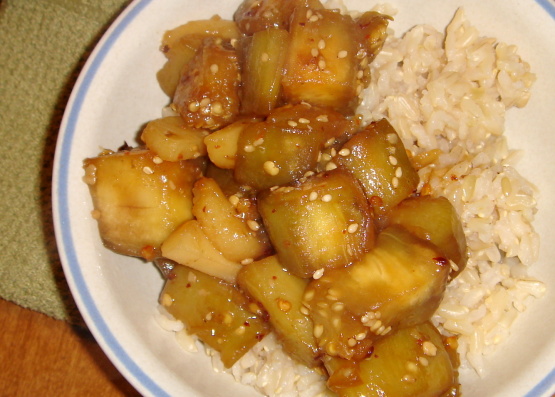 Spicy and good. Eggplant absorbs the flavors of the sauce and gets nice and tender. Great with a little jasmine rice.

This was EXCELLENT!! I love the flavors. I made this as written, except I only had 1/2 tablespoon fresh ginger. The ginger flavor was pretty strong, so next time I make this I will cut it back to 1/2 tablespoon ginger again. I plan to replace the eggplant with scallops the next time I make this. I would recommend this for anyone that likes a sweet/spicy flavor. This tastes like it was made in a Chinese restaurant. Thank you for posting, Sue!
Cook eggplant in 2-3 tbsp oil in a large deep skillet until tender (add a little more oil or water if necessary- it will cook down with the amount of oil stated but with a nicely hot wok, there may be a little smoke involved, but don't worry, turn on the hood exhaust because it just adds to the flavor).
While eggplant is cooking, mix soy sauce, sugar, and broth together in a small bowl till sugar dissolves.
Remove eggplant from skillet when cooked and keep warm.
Heat garlic, red pepper flakes, and ginger in 1 tbsp oil until aromatic.
Stir in the water chestnuts and half of the scallions along with the eggplant and the soy sauce mixture.
Stir and cook until the soy sauce is absorbed into the eggplant (this may take several minutes).
Add the vinegar, sesame oil, and remaining scallions, stirring to mix.
Serve hot, garnished with sesame seeds.