Szechuan Shrimp Noodle Salad
Rita1652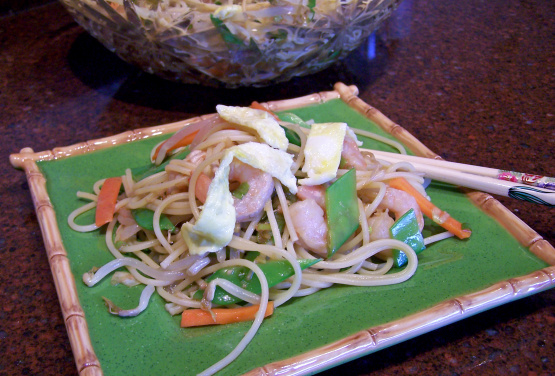 This is a terrific hot weather salad or side dish with your favorite Chinese main dish. Beef or chicken can be substituted also. Enjoy!

For the sauce I just mix the sauce ingredients together, using 1/4 cup "less sodium soy sauce", brown rice vinegar being that is what I had, added 2 cloves of minced garlic. For the salad ingredients I used a 12 ounce bag of bean sprouts, 1 pound noodles, twice the amount of snow peas, shrimp. This is refreshingly healthy good!
Boil noodles in water for about 10 minutes. Rinse, add 1 tablespoons oil (to avoid sticking). Set aside to cool thoroughly.
To 2 cups of boiling water, immerse snow peas, sprouts and carrots. Cook for 1 minute.
Rinse vegetables immediately in cold water. Place in refrigerator to cool.
Pour beaten egg in a small oiled skillet. Roll the egg to cover the bottom of pan. Cook, then shred into slices.
Place noodles, shrimp, cooled vegetables and shredded egg into a bowl. Toss with prepared sauce and toss lightly before serving.