teresas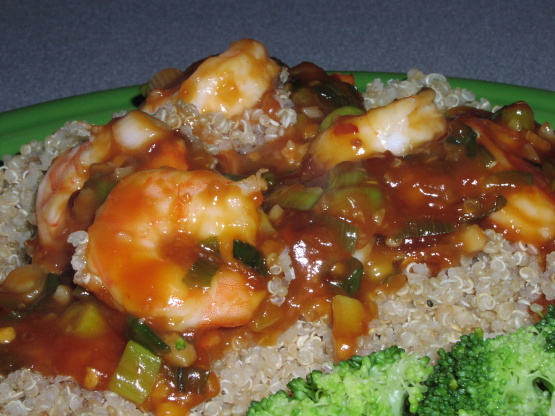 Don't let some of the ingredients fool you -- this spicy shrimp makes a simple, impressive dish, which I usually make for company. For more or less heat, adjust amount of red pepper. Serve over hot steamed rice.

What an excellent recipe! So easy and absolutely delicious. I added some brocolli to mine and doubled the ingredients for the sauce as per Gloria in Tampa's suggestion. I served this dish on a bed of Vermicelli noodles. Will definely prepare this dish on a regular basis.
In a bowl, stir together water, ketchup, soy sauce, cornstarch, honey, crushed red pepper, and ground ginger.
Set aside.
Heat oil in a large skillet over medium-high heat.
Stir in green onions and garlic; cook 30 seconds.
Stir in shrimp, and toss to coat with oil.
Stir in sauce.
Cook and stir until sauce is bubbly and thickened.