Szechuan Peppered Calamari (Salt and Pepper Squid)
ImPat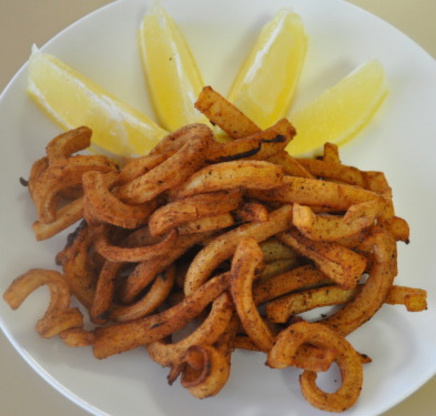 This recipe - which works as either a main dish or appetizer - is a result of combining some different "Salt and Pepper Squid" recipes that I hadn't made before. I was aiming for the taste I'd had in a Seattle sushi place, but didn't quite achieve it. On the other hand, my husband and I loved these anyhow, so I decided to write up the recipe so that I – and others – can duplicate it in the future. These are as good as any calamari I've gotten in restaurants! The first time we made them we gobbled them down so fast that I forgot to take a photo... :)

Top Review by ImPat
Yesterday we took our new (well second hand upgrade on the old runabout) for a 1/2 day out and well we had to wet a line but no fish but the squid were about and we caught a large and a small one - I used the small one which once cleaned (didn't catch the DH in time while he was cleaning but the tentacles ended up in the bait bucket) so in flaps and hood on the small squid I had just over 4 oz. so I made a half recipe as an entree for the DH and I and we thoroughly enjoyed but both agreed we would try one change and that is to use cornflour/cornstarch for the flour to give a slightly more crispy taste but the flavours were wonderful and the DH and I were both thinking hmmm maybe we should have used the other large squid. We served it very simply with lemon wedges. Thank you Julesong.
226.79

g cleaned young squid, body and tentacles separated

14.79

ml tricolor peppercorns (I prefer the different flavors of the tricolor) or 2.46-3.69 ml black peppercorns

5-10

szechuan peppercorns (individual Szechuan peppercorns, to taste and depending on the freshness of your peppercorns)

118.29

ml flour

9.85

ml sea salt

0.59

ml cayenne pepper, to taste

1.23

ml garlic powder

473.18-709.77

ml vegetable oil or 473.18-709.77 ml peanut oil, for frying
chili-garlic sauce, for dipping (or other favorite dipping sauce)
If you got whole squid, clean them first: gently pull the head and tentacles away from the body, then pull out the backbone (quill, aka cuttlebone) from inside the body and discard it and the intestines and ink sac; cut the tentacles from the head just below the eyes and discard head; remove membrane/skin from body.
(How you cut up the squid at this point is a matter of preference, but here's how I like it.).
Cut the larger tentacles away from the smaller ones, so that you get some single tentacles in the mix.
Pull or cut the wings away from the body.
Cut the body down the center so that you can open the two sides up flat, then make strips that are between 1/8 to 1/4 inch wide and about 1 to 1 1/2 inch long; you can also cut the body into 1/4-inch wide tubes, if you like.
Rinse all the cut pieces, tentacles, and wings well in a sieve, and let drain.
In a dry skillet, roast the peppercorns over medium high heat until they begin to smoke; remove from heat, let cool, then use a mortar and pestle or other grinder (I use a coffee grinder) to make into a fine powder.
In a bowl, mix together the flour, salt, cayenne, garlic powder, and powdered peppercorns.
Add the drained squid pieces, and toss or stir well with your hand to coat them well, shaking off excess.
Heat oil in a hot wok or deep heavy pan until very hot (the surface should seem to simmer slightly – you can test it with a single piece to see if it's not enough), then deep fry the squid in batches for 1 to 2 minutes until tender and beginning to turn golden. Do not overcook or your cooked squid will turn rubbery -- blech.
Remove with a slotted spoon and let drain on paper towels.
Serve immediately with dipping sauce – we like garlic chile sauce, but cocktail sauce or aioli is nice, too.