Szechuan Noodles With Spicy Beef Sauce
Parsley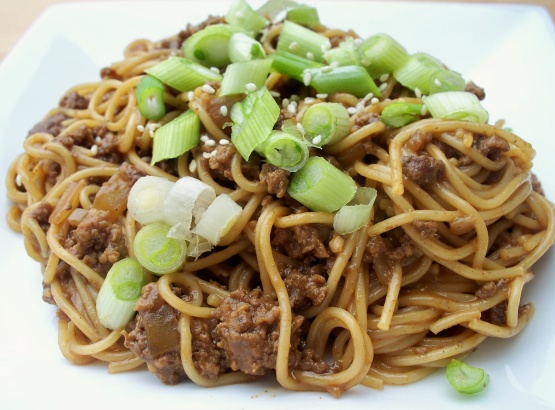 Tired of using ground beef the same old way? Try this spicy dish! Feel free to double the sauce if you like it really saucy! Update: the hoisin sauce is quite sweet, so you might start off with just a little and work your way up!

Based on the previous reviews I decided to use 2 tbsp oyster sauce, 2 tbsp hoisin sauce and 3 tbsp soysauce. I also used ground chicken and chicken broth. The flavour was fantastic and it was super easy to throw together. Next time I will add som vegetables like cabbage, snowpeas. Made for Everyday is a Holiday.
Brown ground beef in a large skillet, stirring until it crumbles; drain and keep warm.
Pour sesame oil in pan and heat till hot. Saute onion and next 4 ingredients hot sesame oil until tender.
Combine cornstarch and beef broth, whisking until smooth.
Stir broth mixture, hoisin sauce, and soy sauce into onion mixture.
Bring to a boil, stirring constantly; boil, stirring constantly, 1 minute.
Stir in ground beef.
Toss with hot cooked pasta, and sprinkle with sliced green onions.
Yield: 4 servings.