Debi9400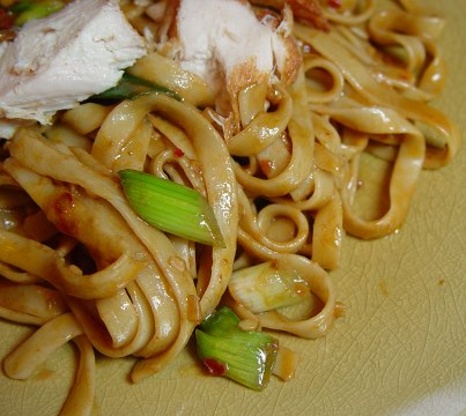 This recipe comes from the cookbook The Ultimate Chinese and Asian Cookbook, with a few alterations on my part. Feel free to add cooked chicken or crab, or even vegetables. I usually double the sauce ingredients. I do not find these are spicy, so you may want to add in some red pepper flakes or ground Szechuan peppercorns if you want some heat. Preparation time is an estimate.

Top Review by Gerry
This was just so good! I always add a surprise dish when having a special supper - and this one made for special. Made as posted and followed your suggestion and doubled the sauce - went light doubling the sesame oil and used three garlic. Served this as a cold salad, I am sure it's equally good warm. My first Szechuan Noodles - but certainly not my last! Thank you Cilantro for sharing this recipe that so impressed us all!
Cook noodles as directed on the package. Drain.
Mix all remaining ingredients together until well mixed. It may help to heat for a minute in the microwave.
Mix noodles and sauce.
Serve warm, but these also taste great cold.