Bergy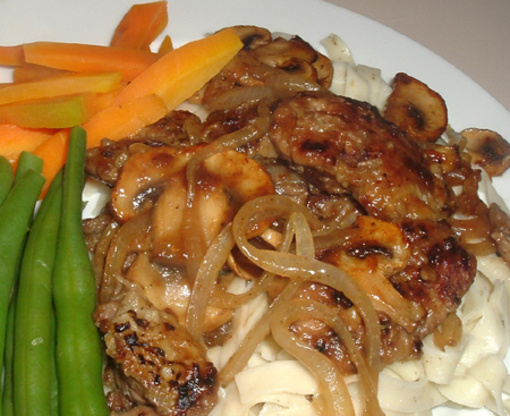 This is a very versatile recipe. Instead of serving the livers over rice or pasta make crepes and fill them with these tasty livers. Another idea make an omelet and fold in the livers as your flavor accent. Or have them as a side dish on a buffet table. I haven't made this recipe for years - it is one of my earlier postings and I found that there were a few things that needed clarification so I have made some corrections

This is comfort food for me as it brings back childhood memories. I usually steer clear of alcohol, but do cook with it. Today I treated myself. I gave six spoonfuls over to the recipe and twelve for me! Ha! Truly, this is so delicious, I even doubled it. I ate it as is and served it with deli corned beef for my boys (students). They scoffed it up!
Heat 1 tbsp oil in skillet.
Saute Mushrooms, medium heat until they start to turn golden and release their moisture. remove to a bowl.
Add 2 tbsp oil to skillet.
Saute livers using a fairly high heat to brown the outer edges and absorb the mushroom juice. They will not be fully cooked at this time, remove livers to the bowl with the mushrooms.
Brown onions, remove and place in the bowl with the liver etc.
Mix together the cornstarch, beef broth, chili sauce and Worcestershire sauce.
Add the cornstarch mixture, reduce heat.
Stir until the sauce is smooth and thickened.
Add liver, mushrooms, onions and brandy.
Stir and cook for approximated 4 minutes or until the liver is cooked and everything is heated through.
Do not overcook the livers.
Serve over rice or pasta.