Szechuan Broccoli (Chinese)
teresas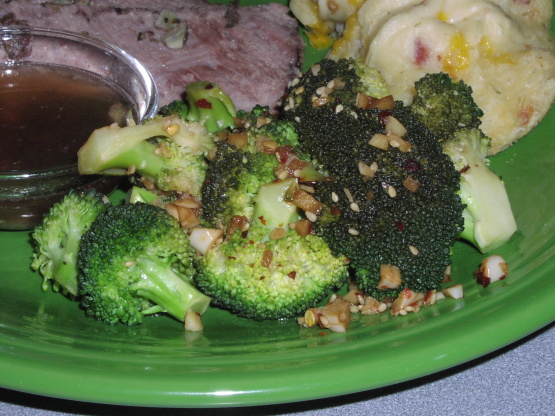 This recipe was added here for the ZWT6.

Loved the spiciness of this dish...I used lemon juice in place of the oil and it seemed to work great...plus it add another tartness to it...I also used fresh ginger, minced...this is a keeper and I'm going to keep it close by...Thanks for posting it...:)
In a bowl combine soy sauce, vinegar & sugar, then set aside.
In a skillet over medium heat, add sesame seeds & cook for 1 minute, then remove seeds & set aside.
To the skillet add oil, red pepper, ginger & garlic & cook for 30 seconds, then add broccoli & cook for another minute.
Add soy mixture, then cover the pan & cook for 2 minutes, before sprinkling the sesame seeds over the broccoli & serving.