Szechuan Broccoli and Cauliflower
Derf2440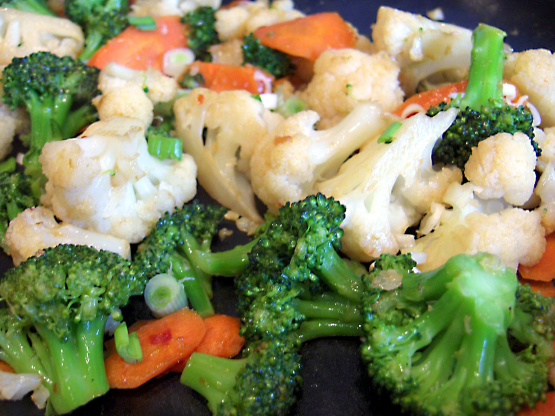 This recipe is from The New Mayo Clinic Cookbook. It is easy to put together and has many possibilities. Equal parts green beans, bell peppers or your favorite veggie can be used. This is wonderful with fish and steamed brown rice.

What can be better than this, if you like veggies? It is fantastic! Had along with salmon and we all thought it was great! Flavors were just right and didn't change anything while preparing it! Thanks for this recipe Paula!
Place the cauliflower and broccoli in a steamer basket over boiling salted water.
Boil until crisp tender, approximately 5 minutes.
In a small dish, combine the oyster sauce, water and chili paste; set aside.
Warm the olive oil in a heavy wok or skillet, add the minced ginger and garlic.
Saute for 30 seconds taking care not to allow the garlic to brown.
Add the carrot and saute for 1 minute, add the steamed cauliflower and broccoli.
Toss and stir for approximately 2 minutes.
Stir in the oyster sauce mixture, stirring to evenly distribute and warm mixture for approximately 1 minute.
Remove from heat and stir in green onion.
Serve immediately.