Syrian Noodles With Lentils
Annacia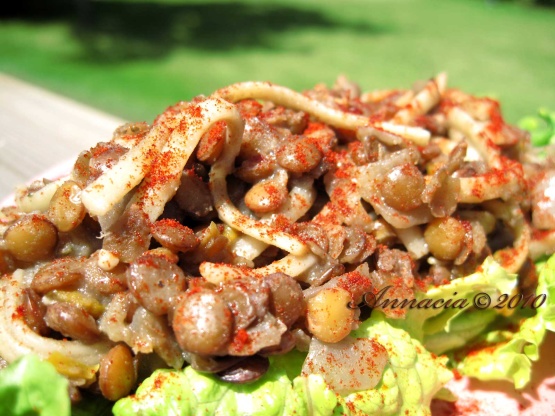 Found on http://www.bigoven.com (by Martha Rose Shulman, "Spicy Vegetarian Feasts"). Posted for ZWT 6 - NORTH AFRICA*MIDDLE EAST.

This is delicious excellent seasonings in just the right amount pushed it from 4 to 5 stars for me. I have to be honest and say that it's not the prettiest dish in the world while in the pot but you won't care after tasting it. I used linguine for the pasta and skipped that 2 tbsp of oil. Everything just went into the pot with the broth so an already low fat content was made even lower. Don't be afraid of the garlic, it's not too strong in the finished dish.
Heat oil in a large casserole. Saute onion & garlic until the onion is tender. Add cumin & coriander. Saute for another minute over medium heat.
Add cayenne pepper, lentils, bay leaf & water. Bring to a boil. Add salt & pepper to taste, cover, reduce heat & simmer for 45 minutes.
Simmer only until the lentils are just tender. Adjust seasonings.
Just before serving, bring back to a simmer & add the noodles. Cook until al dente, about 4 to 10 minutes. Serve at once in bowls.
In place of vermicelli, use wholewheat spaghetti noodles or macaroni.