KingT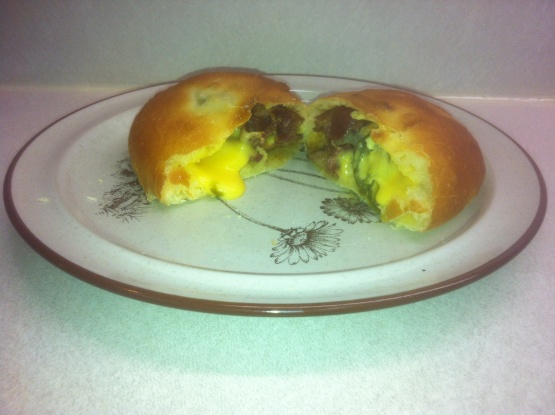 This is another recipe my grandma submitted to the family cookbook she made for us. Her story for this recipe is as follows; "I got this recipe back in the 60s when I moved to Karnes City. I can't remember where I got it. I have used it many times over the years making kolaches and cinnamon rolls. My family always and still does like dessert. They are great to have on hand for thanksgiving or Christmas morning when everyone is hungry and you're busy trying to get the special holiday dinner prepared. The kolaches and cinnamon rolls can be made the day before or several days ahead and frozen. Please try your hand at these, I always loved making these, a little trouble, but you will get compliments. From scratch cooking and baking is a dying art." I have made these repeatedly since I received my cookbook for Christmas. They take a long time but are so rewarding!!! There are a bunch of variations that you can do with this dough, from sausage and cheese to fruit filed or making homemade cinnamon rolls, I will try and share the wealth with you guys.

This was my first try at making kolaches since I had no idea what they were until recently. Delightful little things. I had no clue how much dough to use per kolache or how to assemble them, how much filling to put, how to close them shut, etc. So the end results ranged from warped ping-pong ball sized to the size of my fist. But I guess we have to start somewhere. I think I'll cut off the excess "tail" next time and maybe use a cookie cutter to be more uniform. The bread itself was really soft and light with a nice crust. Also, I'll be sure to season my filling really well next time. If you don't salt it enough, the flavor gets in all the bread. Thank you for sharing, I'll be making these again.
Dissolve yeast with 1 T sugar in 1/4 c warm water.
Let stand about 10 minutes.
Scald milk.
Stir in butter and sugar and let cool.
Add salt and eggs.
In a large bowl combine milk and yeast mixtures.
Start adding flour 1 c at a time till you begin to work the dough with your hands (you should have used about 5 1/2 cups).
Knead the dough working in the rest of the flour.
Clean and grease your bowl; place dough in bowl grease the top with a little oil let rise until double in bulk.
•Sausage kolaches: Boil sausage till done cut in lengths desired wrap in dough (make sure it is sealed shut) let rise 1 hour bake at 400 18-20 minutes.
•Cinnamon rolls: I always make these with the left over dough. Roll out into a rectangle pour melted butter over the surface mix sugar and cinnamon and evenly spread over butter roll up dough and cut into slices place in greased pan about 1/2 inch apart. Let rise 1 hour. Bake at 400° 18- 20 minutes. Top off with a simple powdered sugar icing (I like to add cinnamon to that as well).
•You can add cheese to the sausage kolaches or ham and cheese, fruit filling and cream cheese, the possibilities are endless -- let me know what you guys try.